The Viking Ship Museum in Roskilde (Danish: Vikingeskibsmuseet) is a must-visit for anyone who is into ships from the Viking Age. It is a great and lively museum, and it offers more than just walking among the remains of the distant past while following one of their excellent guides.
They offer different kinds of events, depending on the time of the year. Personally, I love going there during the summer months (June, July, August), where you can take a nice boat trip on Roskilde fjord in one of their Viking ships.
While sailing on the fjord, they will teach you how to row the boat, show you how to set and take down the sail. It's a fun experience, and it seems to be very popular among visitors.
At the boatyard, they have skilled craftsmen who are busy building a new Viking ship, but not so busy that they don't have time to explain and show the different kinds of techniques used when building.
They do not use any modern tools, it's all done by hand with known building methods from the Viking Age. Don't forget to swing by the blacksmith, the rope maker, or the smelter as well.
The museum has some great workshops where children or adults can try their crafting skills, for instance, build your own boat. These kinds of activities depend a lot on when you visit since they tend to vary.
When you are tired of all the walking, you can watch the movie on how the five famous Viking ships were found. You can also check out their restaurant that serves Nordic cuisine.
The Viking ship museum in Roskilde has been the national museum since it was established in 1969, and its main exhibition is the five famous ships that were deliberately sunk around the year 1070.
The five ships, also known as the Skuldelev ships, were excavated in 1962 at the waterway of Peberrenden at Skuldelev in the Roskilde Fjord. It is believed that they were deliberately sunk to protect the village of Roskilde from hostile attacks from the sea.
The harbor next to the museum was added in the late 1990s, and today, it is filled with authentic historic Viking ships from all over Scandinavia.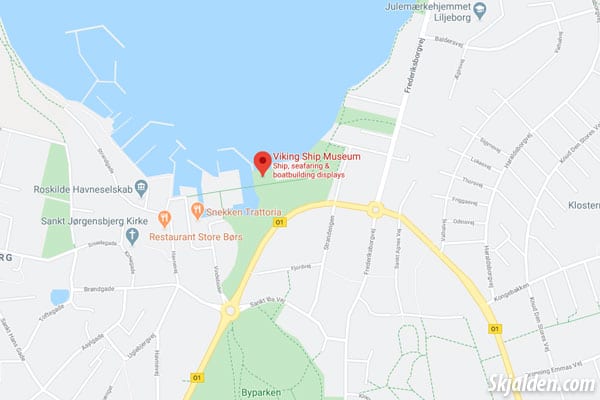 Address: Vindeboder 12, 4000 Roskilde, Denmark.
Phone: (+45) 46 30 02 00
Website: Visit