The city of Ribe can be traced back 1,300 years, which makes it the oldest city in Denmark. It is believed that the first international marketplace in Scandinavia began in Ribe. The traders would have come from near and far to sell their merchandise.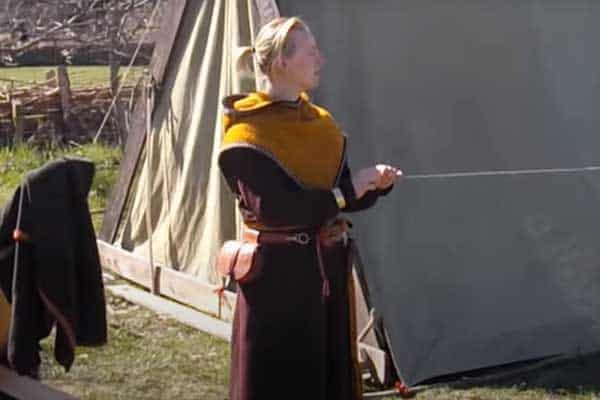 Address: Lustrupholm, Lustrupvej 4, 6760 Ribe, Denmark.
Contact: rvc@ribevikingecenter.dk
Phone: (+45) 75 411 611
Next event: May 2-8, 2022.
Ribe was a very important trade town during the Viking Age for the local economy, and it was not by coincidence that it was placed right next to the river. One of the most commonly used methods to transport goods was by ship, and, therefore, the traders needed a river right next to a market.
Today, and more than a millennium later, an annual International Viking market is held every year at this spot between April and May.
This annual Viking market has a little bit of everything, and walking around here between the stalls will give you an authentic market atmosphere that so many of us enjoys.
The stalls are placed in the same order as they were in the 8th century, filled with historically accurate merchandise from the Viking Age. The organizers go to great lengths to make sure that the products are accurate, there is no cheap mass-produced jewelry or clothes. A lot of it is handmade, and you can clearly see that it is of high quality.
What can you buy at Ribe Viking Market?
Fabric, clothes, shoes, weapons, knives, jewelry, pearls, horns, mead, homemade food, and much more. When I was there I had some of the buns with cranberries which had been baked in one of their stone ovens. They were very delicious, I definitely recommend that you try one of these.
Ribe Viking market is not a huge market like Moesgaard Moot, or Trelleborg Viking festival. This is not necessarily a bad thing, its smaller size, makes it feel more intimate, and there is often more time to chat with the merchants.
When you are tired from all the shopping, you can try and see how good you are at archery, or watch the Viking battle at the arena.
If you arrive in Ribe by train, then you can take the shuttle bus directly to Ribe VikingeCenter (The Viking festival) from the train station, you can find the schedule on their website.