Step into the mesmerizing world of Tivoli Gardens, an iconic amusement park nestled in the very heart of Copenhagen. As one of the world's oldest and most cherished amusement parks, Tivoli Gardens offers an unparalleled experience for visitors seeking excitement, wonder, and romance. From the lush, vibrant landscapes and exhilarating rides to the exquisite dining options and unforgettable evenings under the stars, Tivoli Gardens is a true treasure trove of delights waiting to be discovered. Unveil the hidden gems of this magical destination and create memories that will last a lifetime.
Founded in 1843, Tivoli Gardens has captivated the hearts and minds of visitors from around the globe. Its rich history, elegant architecture, and charming atmosphere create an enchanting setting for guests of all ages. With a diverse range of attractions, entertainment, and dining options, Tivoli Gardens offers something unique and memorable for every visitor.
A Picturesque Haven of Beauty and Excitement
As you step through the gates of Tivoli Gardens, you'll be greeted by a breathtaking scene of lush, vibrant plants and trees that envelop the park in an aura of enchantment. The meticulously landscaped gardens showcase a stunning array of flora, from vibrant flowerbeds to towering trees, creating a serene oasis in the midst of the bustling city. The soothing sound of water features and the gentle rustling of leaves in the breeze further enhance the magical atmosphere.
Wander through the winding pathways, where you'll encounter an array of timeless attractions designed to captivate and delight visitors of all ages. Lose yourself in the nostalgic charm of the beautifully crafted carousel, featuring hand-painted wooden horses and ornate detailing that harkens back to a bygone era.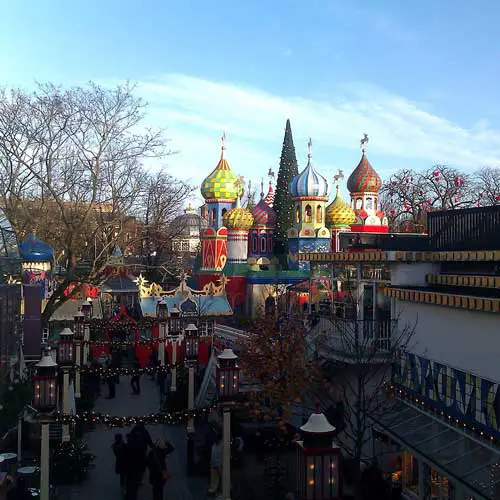 Feel the rush of excitement as you embark on a thrilling ride on the vintage wooden roller coaster, which has been delighting park-goers for generations.
Soar high above the park on the iconic Ferris wheel, where you'll be treated to breathtaking panoramic views of Copenhagen's cityscape.
For the ultimate adrenaline rush, challenge yourself to conquer The Demon, the park's exhilarating, cutting-edge roller coaster. This state-of-the-art attraction takes riders on a heart-pounding journey, featuring gravity-defying loops, exhilarating drops, and lightning-fast twists and turns. Brave The Demon's fiery lair and emerge victorious, having faced your fears and experienced the thrill of a lifetime.
As you continue to explore Tivoli Gardens, you'll discover countless other attractions and experiences that cater to a wide range of interests and preferences. From gentle rides suitable for young children to pulse-pounding adventures that will leave you breathless, there's truly something for everyone at this enchanting amusement park.
Entertainment and Events for Every Season: A Calendar of Unforgettable Experiences
Immerse yourself in the vibrant atmosphere of Tivoli Gardens as you experience a diverse array of events and live entertainment, including outdoor concerts, theatrical performances, and dazzling fireworks displays. The park hosts a dynamic calendar of seasonal festivals, concerts, and parades, ensuring that there's always something new and exciting to discover.
During the sun-drenched summer months, you can enjoy live music on the open-air stage, featuring a variety of genres from classical to contemporary, and performances by both local and international artists. As autumn arrives, the park transforms into a Halloween wonderland, adorned with thousands of pumpkins and offering themed entertainment for all ages. The festive Christmas season brings the magic of the holiday market, where you can shop for unique gifts, indulge in seasonal treats, and enjoy heartwarming performances.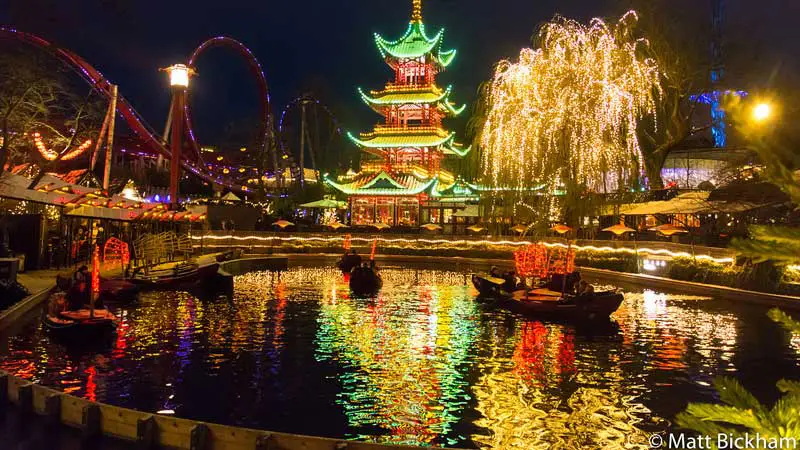 A Culinary Journey Through Tivoli Gardens: Savor the Flavors of the World
Embark on a culinary adventure as you explore Tivoli Copenhagen's impressive array of dining options, which cater to every taste and preference. From casual bites to upscale fine dining, the park offers a gastronomic experience that's sure to satisfy your cravings.
Savor classic Danish hot dogs at the Hotdog Stand or treat yourself to mouthwatering sushi at Sushi Box. For experience, indulge in the refined elegance of Grøften or Nimb Brasserie, where you can enjoy sumptuous dishes crafted from the finest ingredients in a sophisticated setting. With a variety of international cuisines on offer, including Italian, French, and Asian delights, your taste buds will embark on a journey around the world as you dine within the enchanting confines of Tivoli Gardens.
Luxurious Accommodations Within the Park: A Haven of Style and Comfort
Enhance your Tivoli Gardens experience by staying at the luxurious 4-star Tivoli Hotel, conveniently located within the park itself. Boasting upscale amenities such as a restaurant, bar, terrace, and fitness center, the Tivoli Hotel provides the perfect blend of comfort and style. Each elegantly-appointed room is designed to ensure a restful night's sleep, with plush bedding and modern conveniences at your fingertips.
Enjoy effortless access to the city's attractions, and create lasting memories during your stay in Copenhagen. The Tivoli Hotel's attentive staff is on hand to assist with any requests or recommendations, ensuring that your visit is both seamless and unforgettable.
Plan Your Visit to Tivoli Gardens: Unleash the Magic and Adventure
Before embarking on your adventure, be sure to consult the Tivoli Gardens website for up-to-date information on opening hours, which vary by season, and special events taking place during your visit. The park enforces a dress code to maintain its elegant atmosphere, requiring neat attire and closed-toe footwear.
With an abundance of attractions, experiences, and sights to explore, visitors can easily spend one to two days discovering all that Tivoli Gardens has to offer. Plan your visit wisely, taking into account the park's seasonal offerings and any special events that coincide with your stay. As you immerse yourself in the magic and charm of Tivoli Gardens, you'll create memories that will last a lifetime, making your visit to this enchanting amusement park truly unforgettable.
First photo by Susanne Nilsson, Second photo by Orf3us, Third photo by Matt Bickham