The little mermaid (Danish: Den lille Havfrue) is located at Langelinie in Copenhagen. The bronze statue was made by the sculptor Edvard Eriksen in 1909 after it had been commissioned by Carl Jacobsen, son of the founder of the brewery Carlsberg.
During a visit to the Copenhagen Royal Theatre, Carl watched a ballet about the little mermaid. He loved this ballet so much that he wanted a sculpture to be created to depict the little mermaid.
He wanted the ballerina Ellen Price who had played the little mermaid to stand model, but because she did not want to model naked, it was only the statue's head that was modeled after the ballerina. The rest of the statue was modeled after Carl's wife.
Quick facts about the little Mermaid
The mermaid was unveiled on August 23rd, 1913.
It is 1.25 meters tall and weighs 175 kilograms.
It was given as a gift to the City of Copenhagen.
The little mermaid is famous because it is the main character in one of Hans Christian Andersen's fairy tales with the same name from 1837.
When to visit the iconic Mermaid statue
The best time to visit the little mermaid in Copenhagen is during the summer months, which in Denmark are June, July, August, and September.
It can be very crowded around the statue, so it can be difficult to take good pictures, you can avoid this if you come here during the early morning or late at night. No ticket is needed, the attraction is free, and open all day and night.
Directions
If you are going by public transport from the central station in Copenhagen to the little mermaid, then you can choose between bus, train, or the metro.
Bus: 23
Train: A, B, C, E
Metro: M3
If you are planning on visiting many places in Copenhagen, or have difficulty walking, then the Hop-on Hop-off bus Tours could be a good idea. You pay for a ticket that will last the whole day, and then you can simply as the name says, jump on and off the tour busses when they stop at the attractions. If you want to stay at an attraction a little longer, then you can just wait for the next bus.
There is no public transportation available from the little mermaid to Nyhavn, you can either choose to walk or bike from Langelinie to Nyhavn or use the tour bus.
Don't forget to check out the beautiful Gefion fountain at Langelinie park.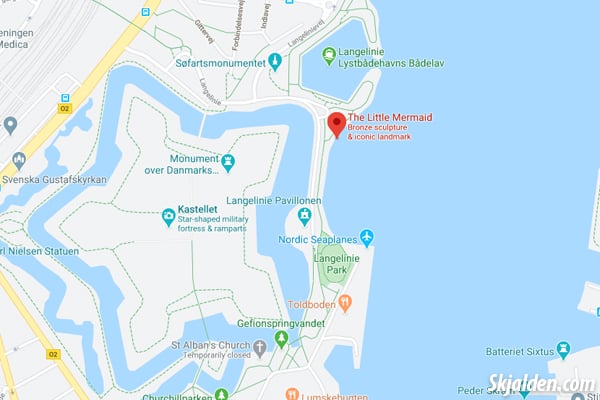 It's free to visit the little mermaid.
Address: Langelinie, 2100 Copenhagen Ø.