Thousands of people visit the little mermaid in Copenhagen every day but do they know about the Gefion Fountain (Danish: Gefionspringvandet) south of Langelinie right next to the Citadel.
The Gefion Fountain was designed by the Danish artist Anders Bundgaard from 1897 until it was revealed to the public in 1908. The fountain was donated to the city of Copenhagen by the Carlsberg Foundation in the celebration of the brewery's 50-year anniversary.
Originally the plan was to place it in the main town square outside city hall, but instead, it was placed at Langelinie Park.
The fountain depicts Gefion who is a Norse goddess of fertility and associated with the plow. In front of her are the four oxen, who, according to the myths, pulled her plow through a piece of land in Sweden, which then became the Danish island of Zealand.
Some people believe that Zealand was cut out from Sweden where the lake Vännern is today, and it really does look like it could have if you compare the island with the lake on a map.
It is free to visit the fountain, and you can come here at any time of the day. The ambiance changes completely during the evening when all of the lights around the fountain are switched on.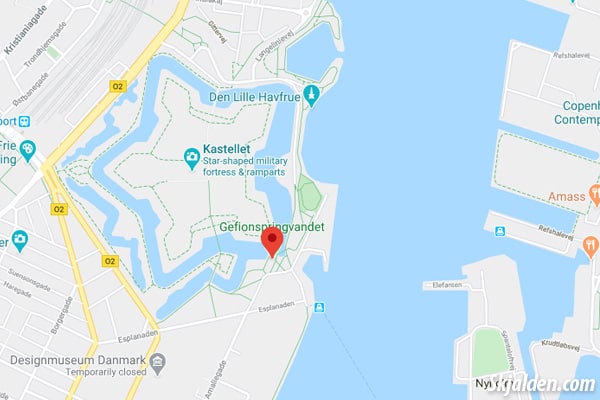 The Gefion Fountain is the largest monument in Copenhagen.
Some people use it as a wishing well.
The fountain underwent extensive renovations in 1999, and it was out of use until it was re-inaugurated in September 2004.
Address: Churchillparken, 1263 Copenhagen K.