In a digital age, it's quite amazing to see vinyl records making a triumphant return. The hands-on experience of holding a vinyl, combined with the unique, warm audio quality it delivers, has revived the love for this classic format. The resurgence of vinyl seems to stem from a longing for tangible connections in our increasingly virtual lives. There's something profound about the act of placing a record on a turntable and watching it spin as it sings its melodic tales.
One such tale is the captivating soundtrack of Assassin's Creed Valhalla, now available in vinyl format. This sensational record is an echo of the Viking age, bringing to life the sagas and stories of Nordic folk music. The LP, featuring the evocative sounds of Einar Selvik, Jesper Kyd, and Sarah Schachner, transports listeners to the cold, mysterious shores of ninth-century Norway and England. It resonates with the spirit of the old Norsemen, engaging fans of Viking history and enthusiasts of Nordic folk music alike. Get it here.
Assassin's Creed Valhalla LP
The soundtrack of Assassin's Creed Valhalla is a symphony of timeless Nordic melodies, deeply rooted in Viking culture. On the LP, the stirring compositions of Einar Selvik, Jesper Kyd, and Sarah Schachner stand out. These acclaimed artists, each contributing their unique interpretation of Viking-era music, have conjured an audial feast that breathes life into the game's epic narrative.
Einar Selvik, a veteran of Nordic folk music, brings his profound understanding of ancient Norse traditions to the table. Jesper Kyd, known for his work in previous Assassin's Creed titles, infuses the soundtrack with his signature atmospheric soundscapes. Sarah Schachner, a returning composer in the franchise, complements their contributions with her dynamic and evocative compositions. Together, they have woven a sonic tapestry that's both haunting and empowering, echoing the harsh, beautiful world of the Vikings.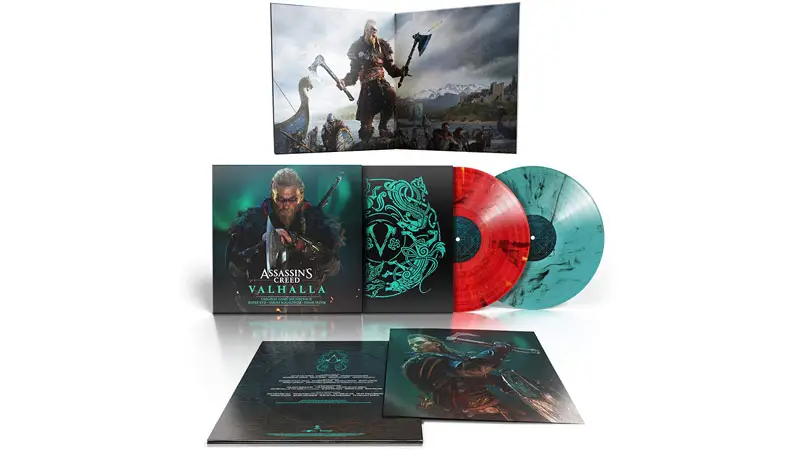 The vinyl release of the Assassin's Creed Valhalla soundtrack is more than just a record; it's a tactile time capsule that encapsulates the raw and mesmerizing spirit of the Vikings. It's a must-have for any fan of the game, Viking history, or Nordic folk music. Don't miss your chance to own this piece of history. Available in vinyl, CD, or MP3. Secure your copy today.
The Perfect Gift Idea
If you're on the hunt for a unique and thoughtful gift, look no further. The Assassin's Creed Valhalla vinyl soundtrack is a fantastic choice, particularly for a significant other who has an interest in Vikings, Nordic folk music, or the Assassin's Creed franchise.
This vinyl LP isn't just an ordinary present; it's an expression of shared interests and an acknowledgment of their passions. It's an invitation to a shared experience, a journey through time, music, and history together. Every spin of the record is a reminder of you and the moments you've spent exploring the world of Valhalla.
Surprise them on their birthday with this beautifully crafted LP. Its high-quality cover art would look stunning on any shelf, and its powerful music would fill their space with an atmosphere of adventure and intrigue. Make their special day even more memorable with a gift that truly resonates. Order it now and present them with an unforgettable surprise.