In Jutland, in the municipality of Skjern is a copy of the famous Ogier the Dane (Danish: Holger Danske). The statue was made from the casting of the original which is located at Kronborg Castle in Zealand (Danish: Sjælland).
The bronze statue used to stand in front of Hotel Marienlyst in Helsingør, but it was sold in 2013 at an auction for 3.2 million kroner. The buyer was an anonymous businessman, who wanted the sculpture moved to his hometown Skjern.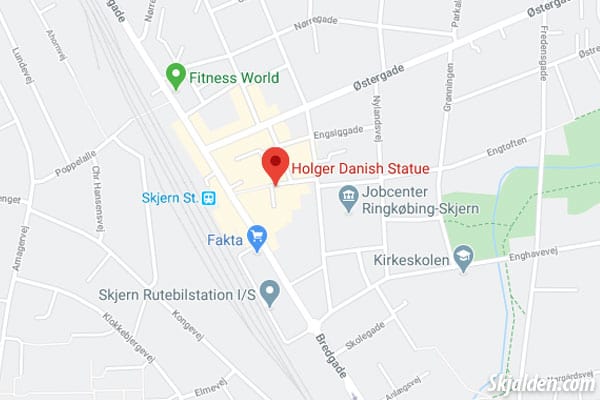 The sculpture is 188 cm high and weighs approximately 2,000 tons, it was made by the sculptor Hans Peder Pedersen-Dan (1859-1939) in 1907.
This Danish sculptor is also famous for the four huge granite elephants of the Elephant Gate at the Ny Carlsberg brewery in Valby, Copenhagen from 1901.
The bronze statue of Ogier the Dane can be visited at Jernbanegade 14, 6900, Skjern, Denmark. It is just across the train station, and there are plenty of parking spots nearby.
According to legend, if the Danes get into trouble which they can't handle themself, Ogier the Dane will rise up from his sleep and fight for them.