Ogier the Dane (Danish: Holger Danske) can be visited at Kronborg Castle in Helsingør, Denmark. He sits on his chair in the basement, where he has been sleeping for hundreds of years. Holger Danske will awaken, when Denmark is threatened, at that moment, he will open his eyes, and the statue will turn into flesh.
Ogier the Dane is first mentioned in the French poem Song of Roland from 1060, and it became such a success, that Roland and Olivier became common names in France. In this epic poem, Ogier was one of Charlemagne's (Danish: Karl den store) famous knights, who were known under the name Oger le Danois.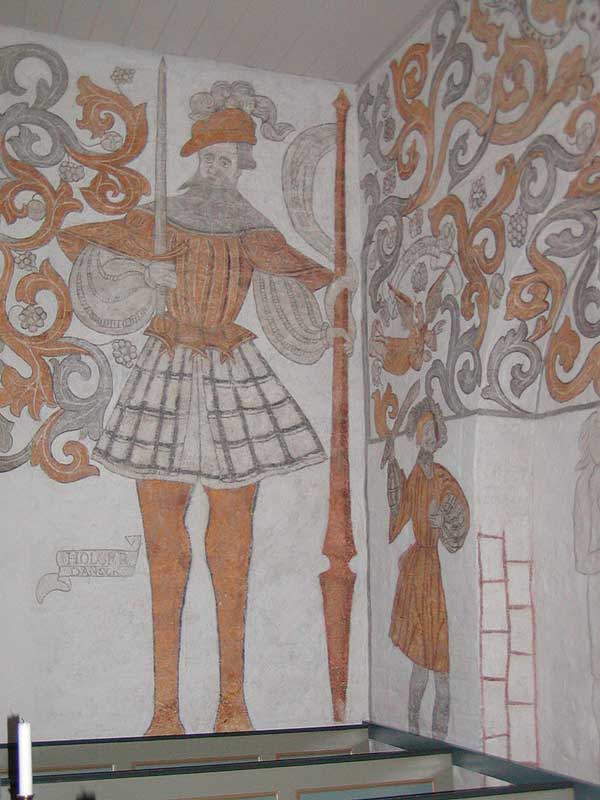 In the second half, he is assigned to be the vanguard and commands the Bavarian Army in the battle against Baligant (The Emir of Babylon "Cairo, not Mesopotamian Babylon").
Other stories worth mentioning about Ogier the Dane, Chevalerie Ogier (France: La Chevalerie Ogier de Danemarche), Roman d'Ogier, and the story of Oddgeir danski (Old Norse: Oddgeirs þáttr danska).
Ogier was such a popular hero that in the small town of Skævninge, Denmark, he was depicted in a 16th-century mural at the local Church.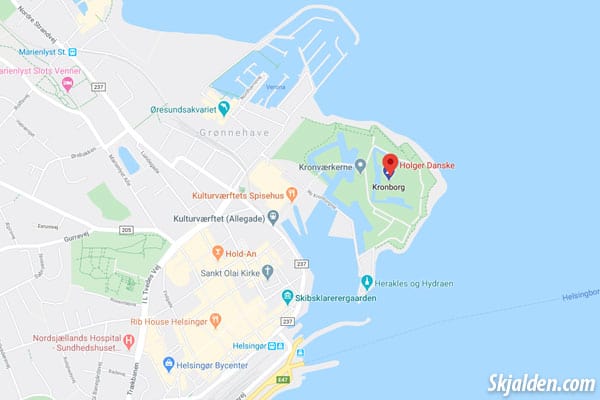 According to the guided tours of Kronborg Castle, legend has it that Holger Danske walked all the way from France, after he had completed the battles, and sat down at his present location. He has been sleeping here for so long, that his beard has grown all the way down to the floor.
In 1907, the Hotel Marienlyst in Helsingør commissioned a statue of Holger Danske from the talented sculptor Hans Peder Pedersen-Dan. The statue was made from bronze, and it was placed outside the hotel until 2013 when it was sold and then moved to Skjern.
During the second world war, when Denmark was under occupation by the Germans, a group of patriotic Danes named their resistance group Holger Danske.