The day has finally arrived where the ancient method of building clinker boats in northern Europe has been acknowledged by the international society as a part of the intangible cultural heritage of humanity.
Contrary to what some people may have been led to believe, the tradition of building clinker boats was not invented during the Viking Age, but it can be traced back thousands of years. These ancient ship-building traditions have, for instance, been depicted on stones dating back to the Bronze Age.
The Nordic people are seafaring folk and have for generations used these kinds of ships to travel, trade, explore, and fish in lakes and out at sea. Small dinghies were used by coastal fishermen to provide for their families, while the larger ships were used for longer journeys.
Clinker boats were constantly evolving, and during the Viking Age, they had been so technologically advanced that it was possible to sail as far as North America.
Clinker boats are still being built
The technique of building clinker boats could not be studied by reading a book, but it was passed down from master to apprentice for thousands of years.
Today, the ancient clinker-building technique is still being kept alive by skilled boat builders in northern Europe, although the amount of clinker-built boats has fallen drastically during recent years.
The people who live by building and using these boats are also becoming fewer in numbers and without them, we risk losing the skills necessary to keep the traditions alive.
According to Søren Nielsen who is the Head of the boatyard and boat collection at the Viking Ship Museum in Roskilde, Denmark, that is exactly why they are constantly building and using clinker-built ships.
"In our Museum Harbour, we have around 30 clinker-built boats, which we use in dissemination. These boats must be sailed, used, and worn until they need to be replaced so that we can build a new one. In this way, we can keep the tradition alive. You can't maintain living cultural heritage without doing that: build ships and use them", explains Søren.
During the summer, it is possible for visitors of the museum to row and sail in some of these traditional clinker boats. They will be taken out to the Roskilde inlet by an instructor who will teach the visitors the different techniques associated with sailing a clinker boat.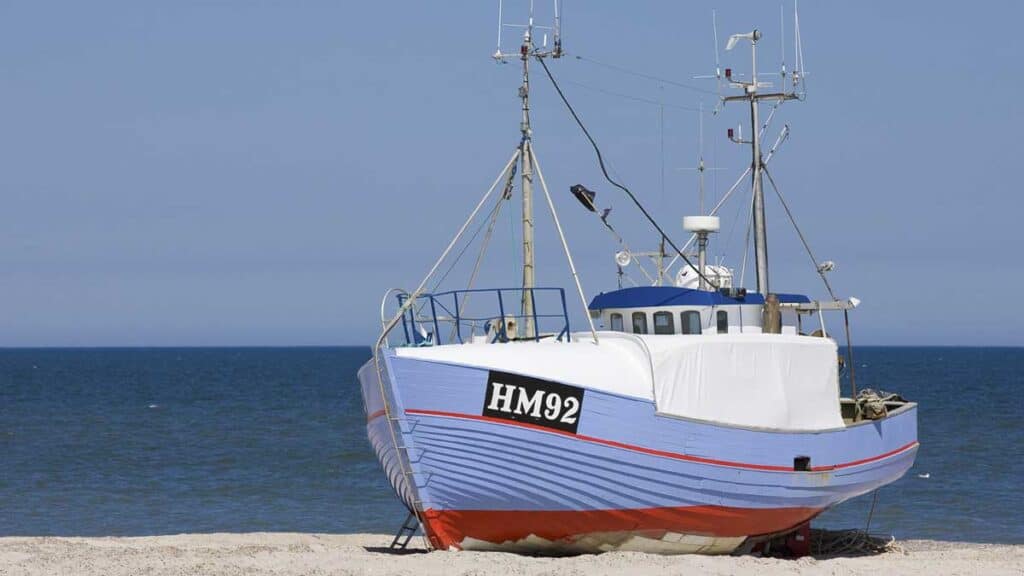 Today, thousands of clinker boats can still be seen across northern Europe, but they are slowly disappearing. One of these boats is the very recognizable Danish fishing boat with its traditional blue and red colors. These boats have been used for generations, and it doesn't take an expert to see where their design has its origin.
Strong volunteering communities
There have been established volunteer communities in northern Europe to help safeguard this ancient tradition of boat building. For instance, at the Viking Ship Museum in Roskilde, they have created a guild that consists of several hundred people. These people spend some of their spare time, building, maintaining, and sailing these boats in order to keep the cultural heritage alive.
"There is a great worth in keeping clinker-building traditions alive as they are still relevant for many people today", says Søren Nielsen from the Viking Ship Museum. "The clinker-built boats give us opportunities that are becoming more and more difficult to find in the world we live in today. They create both a connection to our common past and a present-day framework within which we can experience nature in an environmentally-friendly and sustainable way. With these boats, and as part of this community, you can contribute to the development of the tradition while also safeguarding it for the future", concludes Søren Nielsen from the Viking Ship Museum.