Sweden, with its picturesque landscapes, vibrant culture, and minimalist design aesthetics, has much to offer when it comes to unique gift ideas. As you search for the perfect Swedish present, you'll find an array of options ranging from traditional to contemporary. In this article, we'll take a closer look at some of the best Swedish gifts for every occasion, available online for easy shopping.
Fjallraven Kanken Classic Backpack for Everyday
The Fjallraven Kanken Classic Backpack, hailing from Sweden, has remained a popular choice for daily use since it first graced the scene in 1978. Its iconic design, practicality, and durability are what set it apart from the competition. Crafted from Vinylon F, the dirt-resistant, water-resistant, and easy-to-clean material ensures the backpack remains both functional and aesthetically pleasing.
Boasting a spacious 16-liter capacity, the backpack measures 14.9″ x 10.6″ x 5.1″, making it perfect for everyday essentials. Additional features that enhance its functionality include a two-way zipper with a rain flap for protection, ergonomic shoulder straps for comfortable carrying, dual top snap handles for quick grab-and-go moments, a sitting pad for impromptu breaks, and a reflective logo to enhance visibility.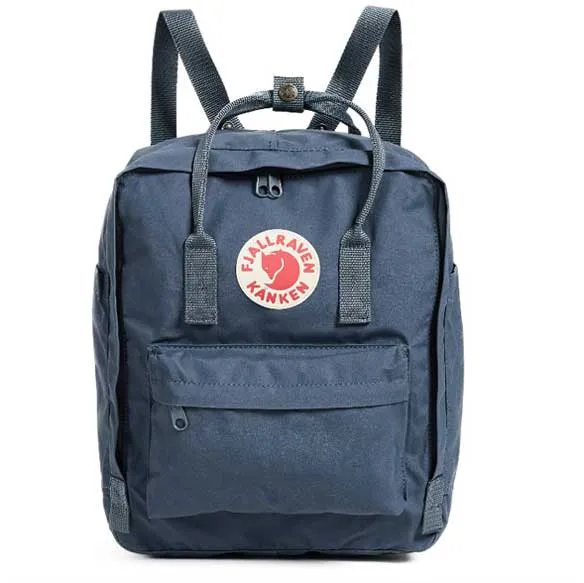 As part of Fjallraven's product lineup, a brand that has been synonymous with durable, timeless, and functional gear since 1960, the Kanken Classic Backpack stands as a versatile and reliable option for those in need of a dependable daily companion. Many colors are available. See more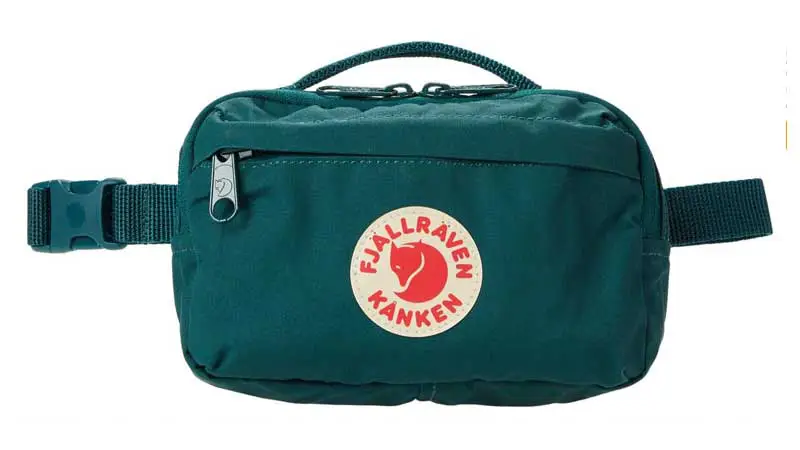 The Fjallraven Kanken Hip Pack, made in Sweden, offers a compact and versatile solution for everyday use and travel. Crafted from durable, dirt-resistant, and water-resistant Vinylon F material, it provides a secure and comfortable fit with an adjustable waist belt.
The hip pack features a main zippered compartment and smaller pockets for organizing essentials, making it a popular choice for hands-free carrying during outdoor activities or travel. Many colors are available. See more
Nils Olsson Hemslojd Ab Swedish Dala Horse
The Nils Olsson Hemslojd Ab Traditional Wooden Swedish Dala Horse, at 5″ (13cm) tall, is a handcrafted masterpiece showcasing the expertise of Sweden's top woodcarvers. Using the Mora knife, artisans refine the horse into a unique, high-quality piece, going through multiple processes including primer coats, inspection, filling, sanding, and hand-painting.
Crafted from carefully selected pine timber, the Dala Horse highlights the intricate craftsmanship and attention to detail in each piece. A versatile décor item, these colorful collectibles are a must-have in Scandinavian homes, adding charm to living room or bedroom interiors.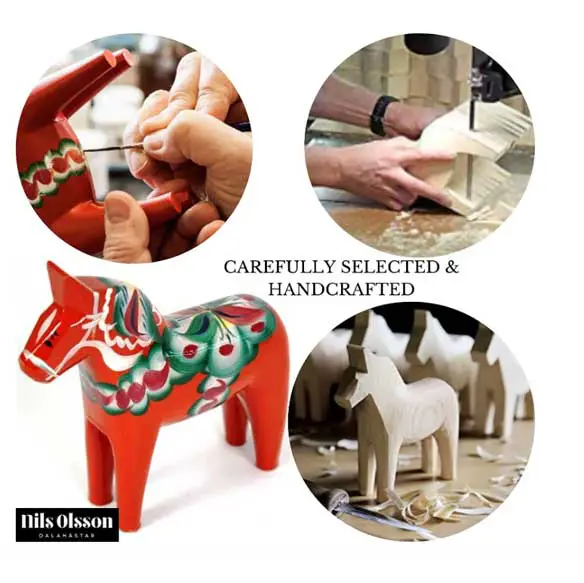 The Dala Horse's exceptional quality makes it a valuable collectible and a perfect gift for friends and loved ones.
Share Swedish heritage with children and celebrate the popular Scandinavian décor trend with these charming, one-of-a-kind pieces. See more
Swedish Dishcloths for Kitchen
These Swedish Dishcloths for the kitchen come in a 10-pack and are made in Sweden. They're designed to replace paper towels, sponges, and dish rags, ultimately saving money and reducing waste.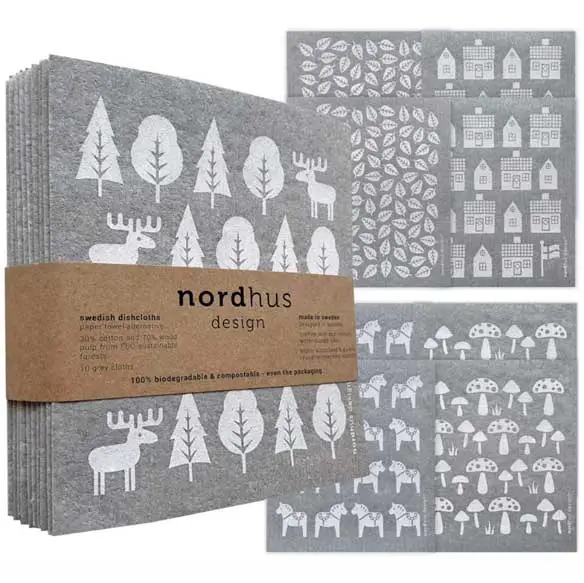 The eco-friendly, biodegradable, and quick-drying cellulose cloths are a zero-waste gift option, as both the product and packaging are plastic-free.
These reusable and machine-washable dishcloths are durable, odor-resistant, and outperform dish sponges and rags in absorbing liquids and picking up crumbs. Experience the game-changing benefits of Swedish dishcloths in your kitchen. See more
Spring Tomte Dolls for Home and Garden Decor
The Spring Tomte Dolls, charming Swedish-inspired decorations, bring seasonal delight to your home and garden. As an authentic Swedish gift, these gnomes with green succulents and rattan accents add a touch of magic and happiness to any space.
This pair of Green Garden Gnomes makes a thoughtful gift for special occasions. Handcrafted from plush and felt by skilled artisans, they feature eco-friendly artificial succulents on their hats.
With a weighted base and poseable top hat, the gnomes can sit independently and be placed anywhere, including the fireplace, mantle, or kitchen.
The Green Succulent Gnomes are perfect for spring garden decor or as a focal point in spring and summer home decorations. Display them on a table, shelf, or mantel to bring happiness and charm to your family, while showcasing their Swedish roots. See more
Swedish Dala Horse Pillow Cover
The Swedish Dala Horse Pillow Cover is a high-quality, breathable polyester fabric that offers comfort for all seasons. This 18×18 inch (45x45cm) pillowcase adds a modern touch to sofas and hanging chairs, making your home more inviting. The cushion core is not included.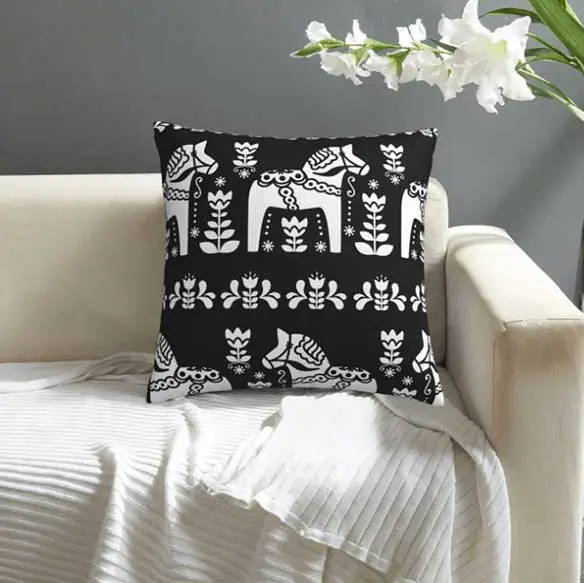 The pillow cover features a concealed zipper, ensuring a visually appealing and seamless look. With double-sided printing, the vivid and rich colors are long-lasting and easy to clean (machine washable).
These artful pillow covers not only provide warmth and protection but also enhance your home's style and ambiance. Incorporate these versatile accessories into your home decor for a fashionable Swedish touch. See more
Swedish Coffee Mugs
Celebrate the cozy Swedish tradition of Fika with this beautifully designed Swedish Fika Coffee Mug. Made in Sweden, this 15 oz capacity mug is built to last, featuring a unique design that can withstand microwave and dishwasher use. The high-quality print adorns both sides of the mug, making it an eye-catching addition to your daily routine.
Each mug comes in an elegant individual box, making it an ideal Swedish gift for loved ones on any occasion. Embrace the slow living movement and take time to savor your coffee breaks with this Scandinavian-inspired mug.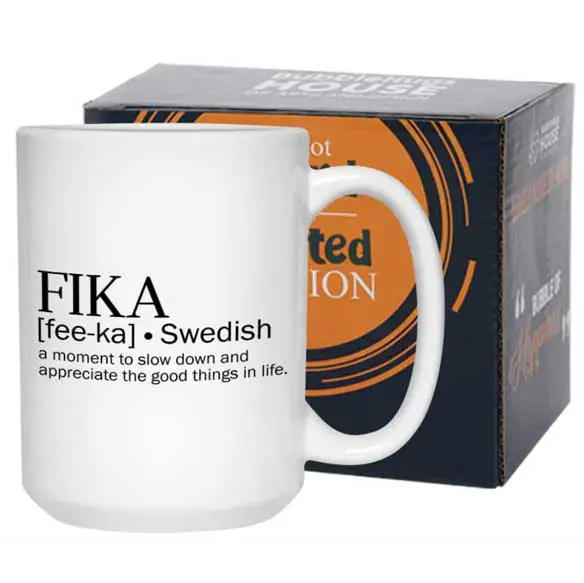 Perfect for birthdays, holidays, or just because, this Swedish Fika Coffee Mug is a thoughtful and versatile present for anyone in your life. Enjoy your favorite beverages in style with this charming and practical Swedish gift. See more