Discover the magic and excitement of Bakken Amusement Park, also known as Dyrehavsbakken, the oldest amusement park in the world located just north of Copenhagen in Klampenborg, Denmark. Established in 1583, Bakken offers a unique blend of classic rides, thrilling shows, and festive events that are perfect for the whole family.
The name "Dyrehavsbakken" translates to "The Animal Park's Hill," giving a nod to the park's natural surroundings and its proximity to the beautiful Jægersborg Dyrehave forest.
History of Bakken Amusement Park
Bakken Amusement Park holds the title of the world's oldest operating amusement park, with a rich history that dates back to 1583. Situated just north of Copenhagen, Denmark, the park's name "Dyrehavsbakken" translates to "The Animal Park's Hill," reflecting its natural surroundings and proximity to the picturesque Jægersborg Dyrehave forest.
The origins of Bakken can be traced back to the discovery of a natural spring in the area by Kirsten Piil, a local woman. The spring's waters were believed to have curative properties, attracting people from all over to benefit from its healing effects. As crowds began to gather, entertainers and vendors arrived to cater to the visitors, gradually transforming the site into a popular destination for leisure and recreation.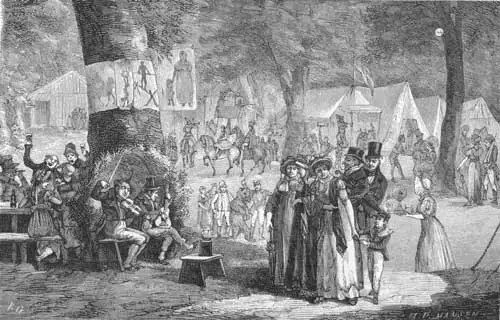 Over the centuries, Bakken evolved, incorporating various attractions and rides to entertain its guests.
In the 19th century, the park saw significant growth with the introduction of carousels, roller coasters, and other amusement rides.
The park also began hosting theatrical performances, concerts, and other live entertainment, creating a lively atmosphere that continues to this day.
In the early 20th century, Bakken continued to expand, adding modern rides and attractions while preserving its historic charm. Many of the original rides and structures remain, allowing visitors to experience a unique blend of old-world charm and contemporary thrills.
Today, Bakken Amusement Park boasts over 30 rides and attractions, as well as a diverse array of dining and shopping options. The park continues to host special events and festivals, staying true to its origins as a gathering place for entertainment and enjoyment. As the world's oldest amusement park, Bakken remains a beloved destination, offering a magical experience steeped in history and enchantment for visitors from all over the world.
Experience the Wonders of Bakken Amusement Park
Bakken Amusement Park has something for everyone, with a wide range of attractions for visitors of all ages. From roller coasters and water slides to carousels and animal encounters, there's always something new to explore. And with a variety of restaurants and cafes, you can satisfy your hunger and stay energized throughout the day.
Admission costs vary depending on the time of year and type of ticket, but special packages and discounts are available for families, groups, and more. Whether you're seeking relaxation or adrenaline-pumping action, Bakken Amusement Park, steeped in history and enchantment, has it all! So come and visit Bakken today to create memories that will last a lifetime!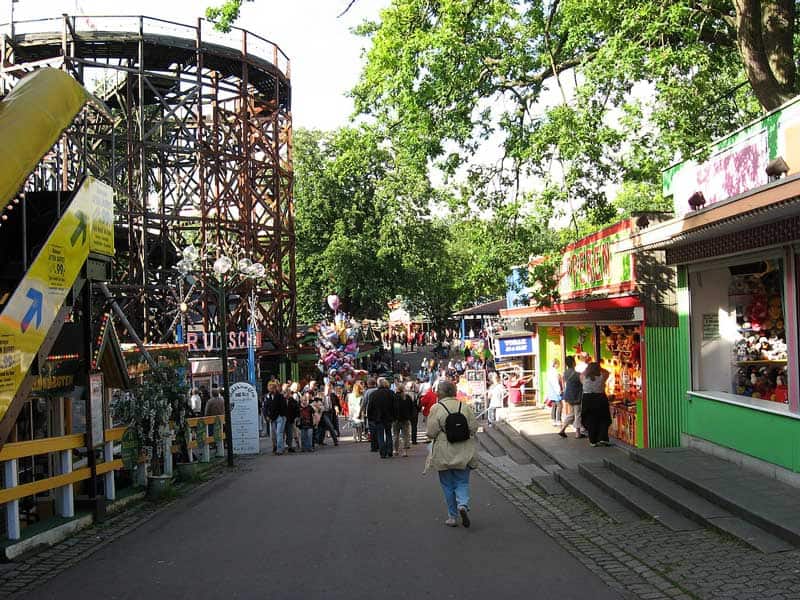 Exciting Rides and Attractions at Bakken Amusement Park
Bakken Amusement Park features an array of exhilarating rides and attractions that cater to visitors of all ages. In addition to the popular rides mentioned earlier, here are some more highlights you won't want to miss:
Rutschebanen: This iconic wooden roller coaster has been thrilling visitors since 1932. With its vintage charm and exciting twists and turns, Rutschebanen offers a unique roller coaster experience that you won't find anywhere else.
Mine Train Ulven: Get ready for an action-packed adventure on this family-friendly roller coaster. As you journey through the mine, you'll encounter sharp turns, sudden drops, and even a thrilling underground section.
Bakken's Ferris Wheel: Take a ride on this classic Ferris wheel and enjoy breathtaking views of the park and the surrounding forest. This gentle ride is perfect for all ages and offers a moment of relaxation amidst the excitement of Bakken.
The Pantomime Theatre: Experience the magic of live entertainment at Bakken's open-air Pantomime Theatre. Featuring traditional pantomime performances and other family-friendly shows, the theatre provides a delightful break from the thrill of the rides.
The Water Playground: Cool off on a hot day at Bakken's Water Playground. With water slides, fountains, and splash zones, this attraction offers endless fun for the little ones.
Bakken's Adventure Playground: Let your imagination run wild in this interactive playground, featuring climbing structures, swings, slides, and more. Kids of all ages will enjoy hours of fun and exploration in this outdoor play area.
Dining and Shopping at Bakken Amusement Park
Bakken Amusement Park offers an extensive selection of dining options to cater to every taste. From traditional Danish cuisine at La Belle Epoque to international dishes at restaurants like Alotta Gelata and Café Underhuset, there's something for everyone to savor. Satisfy your sweet tooth at one of the park's ice cream shops, such as Ismejeriet, or delight in a wide variety of candies and confections available at the numerous candy stores throughout the park. Don't forget to grab a juicy burger or other classic amusement park treats to keep your energy up for a day full of excitement.
Alongside the diverse dining choices, Bakken Amusement Park offers a unique shopping experience. For souvenirs, apparel, and memorable gifts, stop by the Bakken Boutique or Bakken Collectibles shop, where you'll discover a vast assortment of items to cherish your visit. If you're in search of something more distinctive, browse the various kiosks and stalls featuring handmade crafts, toys, and other intriguing novelties.
Special Events and Festivals at Bakken Amusement Park
Bakken Amusement Park is renowned for hosting a variety of special events and festivals throughout the year, offering unique and memorable experiences for visitors of all ages. From large-scale music and cultural festivals featuring local and international artists to themed days that immerse guests in various exciting worlds, there's always something happening at the park.
Popular events include the Summer Festival, a vibrant celebration filled with live music, performances, and colorful decorations. During the holiday season, Christmas at Bakken transforms the park into a winter wonderland, complete with festive lights, seasonal treats, and a magical atmosphere. The Easter Egg Hunt is a favorite among families, providing a fun-filled day of searching for hidden treasures and participating in entertaining activities.
In addition to these well-loved events, Bakken Amusement Park also hosts a range of other special occasions such as laser tag competitions, water shows, and haunted houses during Halloween. There are also themed nights like Pirate Night, Wild West Night, and Safari Night, offering a variety of activities, performances, and immersive experiences that cater to different interests.
To stay updated on all the exciting events and festivals at Bakken Amusement Park, be sure to check the Bakken website for details on upcoming happenings, click here to visit the website. With a calendar full of unique and engaging experiences, your visit to Bakken is sure to be an unforgettable adventure.
Useful Information for Visiting Bakken Amusement Park
Before you visit Bakken Amusement Park, be sure to check the opening and closing hours, which vary depending on the day and season. Don't forget to look for discounts and promotions on the park's website, and keep in mind that there are age restrictions on certain rides. Parking is available on-site, and season passes are also offered for those who want to enjoy unlimited access to the park throughout the year.
Getting to Bakken Amusement Park from Copenhagen Central Station
Reaching Bakken Amusement Park from Copenhagen Central Station is simple and convenient. There are several public transportation options available that will take you directly to the park. Here's a step-by-step guide on how to get to Bakken from Copenhagen Central Station:
Option 1: Train and Bus
From Copenhagen Central Station, take the S-train (Copenhagen's suburban train system) towards Klampenborg Station. You can catch either Line A (towards Hillerød) or Line C (towards Klampenborg). The train journey takes approximately 25 minutes.
Upon arriving at Klampenborg Station, exit the station and look for the bus stop nearby. From there, you can take Bus 388 towards Bakken Amusement Park. The bus ride takes around 5-7 minutes, and buses run frequently during the park's opening hours.
Get off the bus at the "Dyrehavsbakken" stop, which is right outside the main entrance of Bakken Amusement Park.
Option 2: Train and Walk
Follow the same train instructions as in Option 1, taking the S-train to Klampenborg Station.
Instead of taking the bus, you can opt for a scenic 15-20 minute walk to Bakken Amusement Park. From Klampenborg Station, head north towards Jægersborg Dyrehave, the beautiful forest that surrounds the amusement park.
Enter the forest and follow the signs leading to Bakken Amusement Park. As you walk through the picturesque woodland, you'll soon come across the park's entrance.
Both options are efficient and enjoyable ways to travel to Bakken Amusement Park from Copenhagen Central Station. Be sure to check the local train and bus schedules in advance to plan your journey accordingly.
Option 3: Renting a Bicycle
Renting a bicycle is an eco-friendly and fun way to reach Bakken Amusement Park from Copenhagen Central Station while enjoying the scenic surroundings. Here's how to get to Bakken by bike:
Rent a bicycle from one of the many bike rental shops near Copenhagen Central Station, or use the city's bike-sharing system, such as Donkey Republic or Bycyklen. Make sure to familiarize yourself with the local cycling rules and regulations before you set off.
Plan your route in advance using a mapping app or a printed bike map of Copenhagen. The most direct route to Bakken Amusement Park from Copenhagen Central Station is approximately 15 kilometers (9.3 miles) and takes about 45-60 minutes, depending on your cycling speed.
Follow the designated bike lanes and paths, which are abundant in Copenhagen. The route will take you through the city, passing by several landmarks and picturesque neighborhoods before reaching the serene Jægersborg Dyrehave forest.
Upon entering the forest, continue following the bike paths and signs leading to Bakken Amusement Park. Cycling through the forest is a delightful experience, as you'll be surrounded by lush greenery and might even spot some deer and other wildlife.
Once you arrive at Bakken Amusement Park, you'll find bicycle parking facilities near the main entrance where you can safely lock up your bike while you enjoy your day at the park.
Renting a bicycle is a healthy and enjoyable alternative to public transportation, allowing you to explore Copenhagen's charming streets and the beautiful Jægersborg Dyrehave forest at your own pace.