Hey there, LEGO and Viking fans! Get ready to set sail on an amazing adventure with our super cool LEGO Viking Ships, perfect for kids and LEGO collectors. They make a fantastic birthday or Christmas gifts for all you brave explorers out there.
Dive into the exciting world of LEGO Viking Ships, inspired by thrilling Norse tales and legendary Viking voyages. Build the epic 3-in-1 LEGO Viking Ship, or put together an awesome longship to start your own thrilling adventure.
These super fun sets have something for everyone, so get ready to mix your love for Vikings and LEGOs. Let your imagination go wild, and awaken the inner warrior in you!
LEGO 3 in 1 Viking Ship
Get set for an incredible journey with the LEGO 3-in-1 Viking Ship set, where kids can have loads of fun with both land and sea adventures. This amazing 3-in-1 set includes a Viking ship, a cozy Viking home, and a fierce Fenris wolf figure, for endless playtime and imagination.
You can build a battle-ready Viking ship with a fearsome serpent enemy, a charming Viking home protected by a dragon figure and a toy cow buddy, or a brave wolf taking on four skilled Vikings.
The serpent figure has an adjustable head, tail, body, jaw, and fins, while the wolf figure has movable neck, jaw, and legs for action-packed scenes. The Viking ship is decorated with eight colorful shields, a patterned sail, and two brick-built ravens, and comes with cool accessories to take on the snake.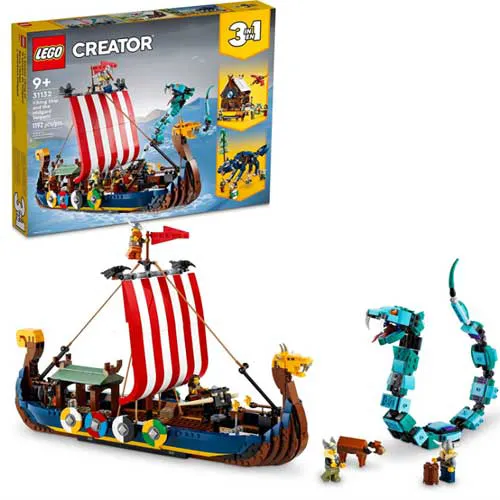 The awesome Viking house has a removable roof to peek inside, and it's even cooler with an outdoor fire and a brick-built cow with a plow attached. Four detailed LEGO Viking minifigures, with helmets and accessories, are included for acting out different situations in each setup.
The super fun LEGO Creator 3-in-1 Viking Ship set is perfect for birthday gifts and will look great as a display in any kid's room. See More
LEGO Thor Viking Ship
Prepare for an epic journey with the LEGO Thor Viking Ship, inspired by the Marvel Studios' Thor: Love and Thunder movie. This cool set comes with Thor's legendary Viking toy ship, soaring through the sky powered by two amazing goat figures.
The buildable Thor toy longboat has a central cabin with a removable roof, letting you get to the play area inside, and it's decked out with cool Viking shields for an authentic touch. The goat figures, Toothgnasher and Toothgrinder, are raised up to make the ship glide smoothly during playtime.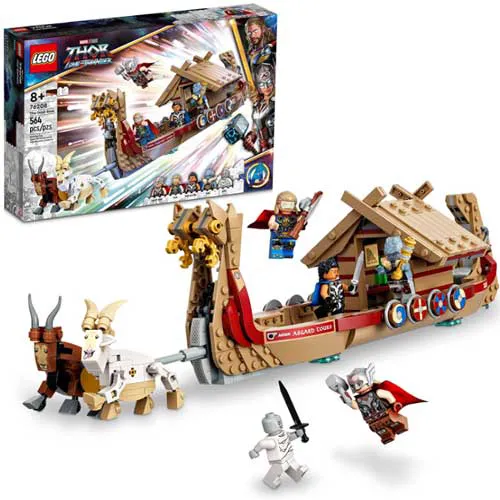 The set includes a LEGO Thor minifigure, showcasing the Mighty Thor with his powerful Stormbreaker axe, as well as Valkyrie, Korg, and Gorr, each armed with their unique weapons. Additional accessories include a LEGO Thor helmet, a toy boat wrench, a fire extinguisher, a map of New Asgard, a bottle, and a mystical sunstone crystal.
Made for kids aged 8 and above, this LEGO Marvel Avengers building toy sparks thrilling adventures on a Viking longboat and serves as an eye-catching display piece. Combine the model with other LEGO Marvel building toys for even more fun and make it the perfect Marvel Avengers gift for boys and girls alike. See More