In the summer of 2022, a couple from Randers embarked on a home renovation project, planning to remove their old linoleum kitchen floor. To their astonishment, they discovered a massive, approximately 900-kilogram rune stone hidden beneath the surface.
Measuring two meters in length and 80 centimeters in width, this ancient stone might be one of the oldest rune stones in Denmark. Nationalmuseet, the national museum, has declared it as danefæ, a treasure, and is now working diligently to determine its precise age. The age of the stone is crucial, as it depends on whether the five runes engraved on it initiate or conclude the inscription.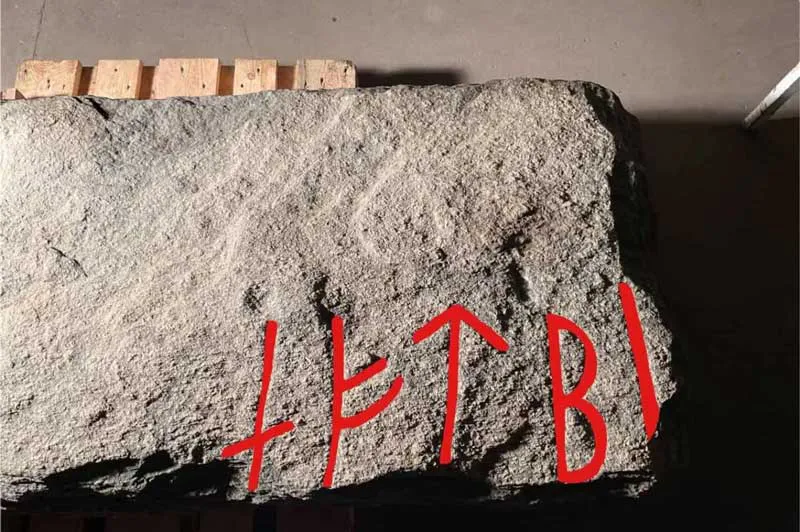 The five runes, which can be read as "aft bi," translate to "after B." Rune stones were typically erected in memory of significant individuals, and in this case, the inscription might be referring to a person named Bjørn, Bjarne, or Birk. If the runes mark the beginning of the text, the stone likely belongs to the earliest group of rune stones in Denmark, making it an exceptionally rare find.
According to Lisbeth Imer, a senior researcher and runologist at the Nationalmuseet, only around 10 to 20 rune stones from the 700-800s have been discovered in Denmark. These early stones are quite special, as there are approximately 200 known Viking Age rune stones scattered across the country, with the earliest dating back to the 700s and the latest to the 900s. The renowned Jelling Stones, for example, were erected around 965.
The homeowners initially contacted the local Museum Østjylland, where archaeologist and inspector Benita Clemmensen expressed her excitement about the discovery. She stated that rune stones are the only written records from the Viking Age and emphasized the significance of finding traces of the earliest Vikings in the area.
While the Randers rune stone might be older than the Jelling stones, they cannot be compared directly, as the Jelling stones are complete, in their original location, and mentioned in historical sources. The Randers stone, on the other hand, is a fragment with only a small portion of the inscription preserved.
Currently, the rune stone is housed at Museum Østjylland, awaiting further analysis to determine its age and potentially uncover more about the Viking past.