I den nordiske mytologi er en Valkyrie (oldnordisk: Valkyrja, flertal Valkyrjur.) kvindelige mennesker (muligvis tidligere adelige) eller kvindelige Jötnar, som Odin har udvalgt til at tjene. Deres rolle er at afgøre, hvilke af de faldne krigere, der er døde modigt i kamp, der skal gå til efterlivet i Valhalla. Valkyrja er to ord sat sammen, Val, "dødt lig på en slagmark", kyrja "vælger", på almindeligt dansk kaldes de ofte bare for de dræbtes vælger.
Valkyrier er gud Odin's tjenere i hans store sal kaldet Valhalla. Det er valkyriernes pligt at betjene krigerne i deres liv efter døden med drikkevarer og mad. De fylder hornene med mjød fra den enorme kedel inde i Valhalla-hallen, som hele tiden fyldes med uendelig mjød fra gedehyrden Heidrun.
Jeg ønsker, at Hrist og Mist ville bringe mig mit horn! Skeggjöld og Skogul, Hildr og Thrud, Hlokk og Herfjötur, Göll og Geirölul Randgrid og Radgrid, og Reginleif de bringer mjød til Einherjar. – Grímnismál 40-41.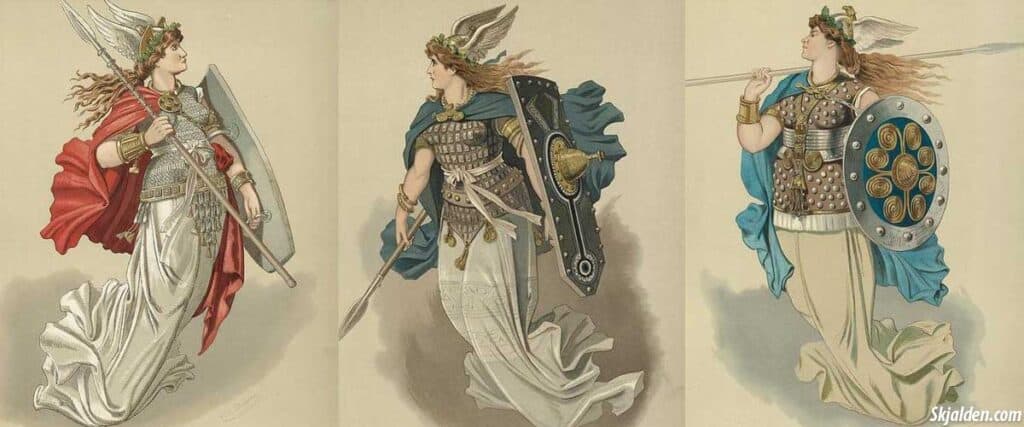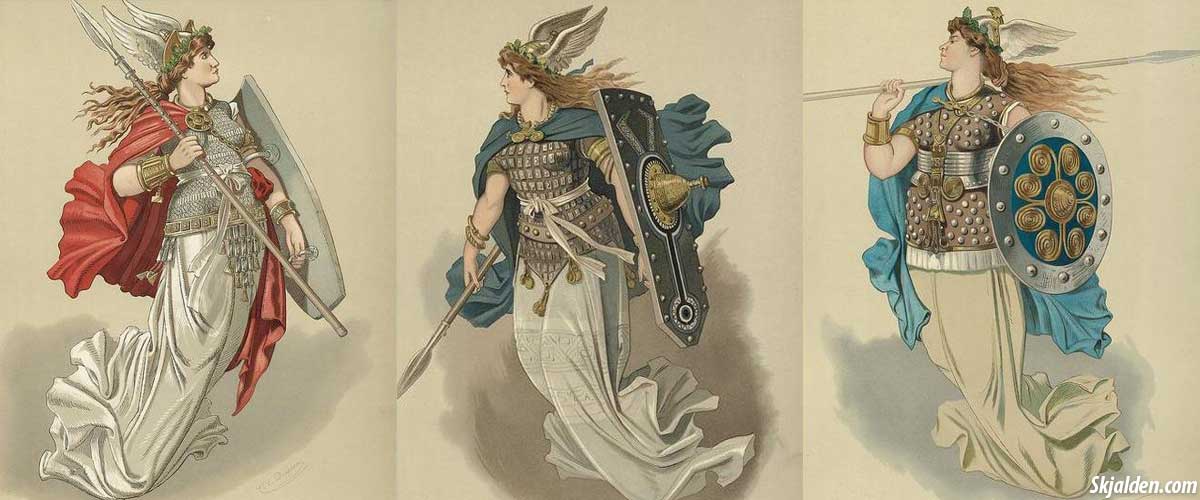 Der er ingen optegnelser om mandlige valkyrier, alle valkyrier er kvinder. Ingen af dem har lov til at være intime med et menneske. De er ikke skønhedsobjekter, der blot skal beundres, deres rolle i hallen er blot et af deres ansvarsområder.
Når der er kamp i Midgårds rige, sender Odin valkyrier for at overvåge slaget. Han sender dem altid i et antal på tre, seks, ni osv. Valkyriererne svæver over slagmarken (som fugle over deres bytte) på deres heste, klædt i deres kampudstyr og med et spyd i hånden.
De vil dømme blandt de faldne og vælge de modigste krigere til at slutte sig til dem i livet efter døden. De udvalgte vil blive bragt til Asgård, hvor gudinden Freya har ret til at vælge halvdelen til sin mark kaldet Fólkvangr. Når hun har valgt sin halvdel, vil resten komme til Valhalla.
Dr. Jackson Crawford, som er ekspert i nordisk mytologi, har spekuleret i, at Fólkvangr måske faktisk bare er et andet navn for Valhalla. At Freya fremhæves ved at nævne, at hun får lov til at vælge halvdelen, kunne have været en indikation af hendes betydning. Det er muligt, at Freya er den, der har ansvaret for valkyrierne.
Valkyrier synes at have lov til at strejfe rundt i Midgårds landområder, når der ikke er brug for dem. Odin tillader endda nogle af dem at tage skikkelse af en smuk hvid svane, men hvis en valkyrier bliver set af et menneske uden sin svanelignende forklædning, bliver hun dødelig og vil aldrig kunne vende tilbage til Valhalla.
Liste over valkyrier i den nordiske mytologi
Det samlede antal Valkyrier er usikkert, men vi har en liste med 23 Valkyrie-navne og betydningen af navnene. Disse navne er blevet nævnt i de gamle islandske kilder, Grímnismál, Völuspá, Helgakviða, Hundingsbana, Völsunga, Sigurðarkviða.
| Navn | Betydning | Kilde |
| --- | --- | --- |
| Hrist | Ryste | Grímnismál |
| Tåge | Tåge | Grímnismál |
| Skeggjǫld, or Skeggjöld | Økse alder | Grímnismál |
| Skǫgul, or Skögul | Projektor | Grímnismál |
| Hildr | Kamp | Grímnismál |
| Þrúðr, or Thrúd | Styrke (med en overnaturlig styrke) | Grímnismál |
| Hlǫkk, or Hlökk | En ørns skrig | Grímnismál |
| Herfjǫtur, or Herfjötur | Krigsfodlænke, eller krigskæde, eller krigshustru | Grímnismál |
| Gǫll, or Göll | Støj | Grímnismál |
| Geirskǫgul, or Geirskögul | Spydprojektor | Grímnismál |
| Randgríðr, or Randgrid | Skjold ivrig | Grímnismál |
| Ráðgríðr, or Rádgrídr | Rådgivning ivrig | Grímnismál |
| Reginleif | Guddommelig overlevende, eller rest | Grímnismál |
| Skuld | Skal | Völuspá |
| Skǫgul, or Skögul | Projektor | Völuspá |
| Gunnr | Kamp | Völuspá |
| Hildr | Kamp | Völuspá |
| Gǫndul, Göndul | Den magiske eller den uhyrlige | Völuspá |
| Geirskǫgul, or Geirskögul | Spydprojektor | Völuspá |
| Sváva | Læg dig til at sove | Helgakviða |
| Sigrún | Sejr rune, eller sejrsmysterium | Hundingsbana I, Hundingsbana II |
| Brynhildr | Rustning kriger | Völsunga |
| Sigrdrífa | Sejrs driver (den, der får sejren til at ske) | Sigurðarkviða |
Kilde: Dr. Jackson Crawford
Kilder:
Jesse Byock (2005) Snorri Sturluson, The Prose Edda. 1st. edition. London, England: Penguin Books Ltd. ISBN-13 978-0-140-44755-2
Anthony Faulkes (1995) Snorri Sturluson, Edda. 3rd. edition. London, England: Everyman J. M. Dent. ISBN-13 978-0-4608-7616-2
Jackson Crawford "Video" (2019) https://www.youtube.com/watch?v=VMrYEq_jNVs&ab_channel=JacksonCrawford