Valhalla (oldnordisk: Valhǫll) er de faldne krigeres hal i den nordiske mytologi. Valhǫll er to sammensatte ord, Valr betyder "dødt lig på en slagmark" og hǫll betyder hal.
Det er Odin, der bestemmer udfaldet af alle slag i Midgård, og hver gang der er et nyt slag, sender han Valkyrier ned til Midgård, så de kan observere slaget. Valkyrierne svæver over slagmarken og vælger de modigste af de faldne krigere og bringer dem tilbage til Valhalla.
Den islandske forfatter Snorri Sturluson nævner i Prosa Edda, at halvdelen af de faldne vil gå til Fólkvangrs mark, og at Freja har ret til at vælge den første halvdel af krigerne. Dette er blevet anfægtet af nogle forskere, f.eks. har Dr. Jackson Crowford, der er ekspert i oldnordisk, foreslået, at Fólkvangr kunne være et andet navn for Valhalla.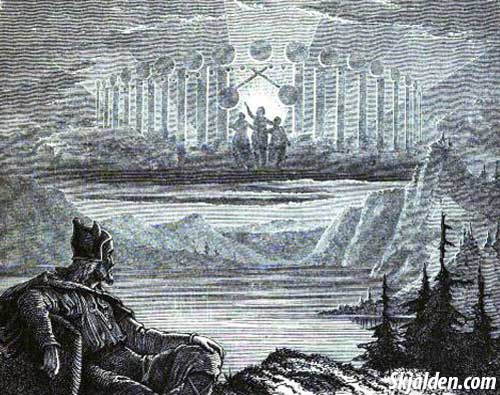 Dette fjerner dog ikke Freyas betydning fra ligningen. Det er måske hende, der har ansvaret for Valkyrierne, og at hun nævnes som den første, der skal vælge, kunne være sket for at vise, hvor vigtig hun er.
De udvalgte vil blive mødt med et horn fyldt med mjød ved deres ankomst til livet efter døden. De vil ikke se nogen af deres kære i Valhalla, medmindre de også dør modigt i kamp. Alle, der ikke er blevet udvalgt af en Valkyrie, vil gå til dronningen af Hel.
Ifølge digtet Grímnismál er valhallaporten så bred, at 800 krigere kan gå igennem den ved siden af hinanden. Taget er dekoreret med skjolde, og det holdes oppe af spydskafter, på bænkene ligger kædebrynjer. På den vestlige dør hænger en ulv, og over den hænger en ørn. Valhalla er enormt, det har 640 rum, og mange af dem er højst sandsynligt dedikeret til at huse den store hær af Einherjar (enkeltkæmpere), den største hær af dem alle.
Seks hundrede døre og stadig fyrre mere, tror jeg, er i Valhalla. Otte hundrede Einherjar vil sammen gå ud af hver dør når de går ud for at bekæmpe ulven. – Grímnismál 18
Valhalla er ikke et sted, hvor du sidder på en sky og spiller harpe, og du får heller ikke 72 jomfruer, det er et liv efter døden for krigere. Hver dag vil de øve sig med øksen, spyddet og sværdet til slaget ved Ragnarök. Det er ligegyldigt, om de får deres arme, ben eller hoved hugget af, mens de er i Valhalla, er de udødelige.
Alle Einherjar i Odins hjemlige marker kæmper indbyrdes hver dag. De dræbte udvælger de rider derefter fra slagmarken; forsonet sidder de igen sammen – Grímnismál 41
Hver aften efter træning vil de slutte sig til Odin i den store spisesal, hvor de vil blive serveret svinekød fra ornen Sæhrímnir og mjød fra geden Heidrun. Alle kan spise og drikke så meget de vil, der er kun én, der ikke spiser, og det er Odin, han drikker kun vin. Odin fodrer sine to ulve Geri og Freki med sin potion af kødet, mens han nyder krigernes selskab.
Andhrímnir har Sæhrímnir kogt i Eldhrímnir, det bedste kød. Men kun få kender hvad Einherjar ernærer sig af. – Grímnismál 18
Geri og Freki bliver fodret af de kampdygtige far til hære; Men kun af vin, våben glorværdige Odin lever altid. – Grímnismál 19
Den korrekte måde at sige "til Valhalla" på oldnordisk er ifølge Dr. Jackson Crawford "til Valhallar". Grunden til, at det er Valhallar og ikke Valhǫll, er, at det har en genitivform, da det følger efter præpositionen "til" (oldnordisk: til).
Akkusativ: Valhǫll Genitiv: Valhallar Dativ: Valhǫll(u)
På oldnordisk: Til Valhallar På dansk: Til Valhal På norsk: Til Valhal På svensk: Til Valhall
Kilder:
Jesse Byock (2005) Snorri Sturluson, The Prose Edda. 1st. edition. London, England: Penguin Books Ltd. ISBN-13 978-0-140-44755-2
Anthony Faulkes (1995) Snorri Sturluson, Edda. 3rd. edition. London, England: Everyman J. M. Dent. ISBN-13 978-0-4608-7616-2
Lee M. Hollander (1962) The Poetic Edda. 15th. edition. Texas, USA: University Research Institute of the University of Texas. ISBN 978-0-292-76499-6
Jackson Crawford (2019) Video, the word Valhalla https://www.youtube.com/watch?v=s1sKmiGEWo0&ab_channel=JacksonCrawford
Jackson Crawford (2019) Video, the afterlife https://www.youtube.com/watch?v=_X_c6FCpzKQ&ab_channel=JacksonCrawford
Jackson Crawford (2020) Video, to Valhalla https://www.youtube.com/watch?v=OeCqoDbfp-k&ab_channel=JacksonCrawford