I den nordiske mytologi er Tanngrisnir og Tanngnjóstr, som kan oversættes med henholdsvis tandskærer og tandkværn, Thors to geder. Tanngrisnir og Tanngnjóstr trækker hans vogn hen over himlen og bringer Thor og hans ledsagere til et af de ni riger.
Andre ved altid, når Thor er ved at ankomme. For når vognen bevæger sig, springer der gnister og lys ud fra hjulene, og lyden af torden og den blå lynhimmel kan ses og høres langt væk fra.
Selvom Tanngrisnir og Tanngnjóstr er Thors betroede geder, kan de stadig ende på middagsbordet, hvis der ikke er andet tilgængeligt. Dette kan man læse i sagaen om Thors rejse til Utgard i den Poetiske Edda.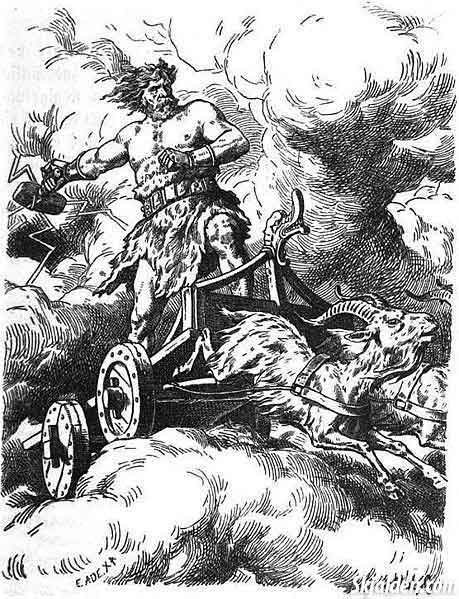 I begyndelsen af rejsen beslutter Thor og hans følgesvend Loke at stoppe ved en gård i Midgård for at overnatte. Bonden og hans familie var meget fattige, og de kunne ikke tilbyde noget mad til Thor, som ved mere end én lejlighed har været kendt for at spise en hel okse.
Derfor besluttede Thor at dræbe sine to geder og tilberede dem til aftensmad. Alle fik lov til at spise, men kun på den betingelse, at de ikke brækkede nogen af knoglerne, og at de smed alle knoglerne på skindet på gulvet.
Under måltidet overtaler den altid onde Loke drengen Thjalfi (oldnordisk: Þjálfi) til at knække et af knoglerne og suge den søde marv ud.
Næste morgen, da Thor bragte skindet udenfor og havde genoplivet gederne. Han bemærkede, at en af dem haltede, og Thor blev rasende og forlangte at vide, hvem der havde knækket et af knoglerne.
Thjalfi indrømmede, at det var ham, og som straf blev han og hans søster Röskva tjenere for Thor og hans familie. Det er ukendt, hvem af gederne der blev skadet, eller om det blev permanent at halte.
Ritualer med dyr
Vi ved, at dyreofringer var almindelige i Skandinavien, og at de blev udført i en religiøs sammenhæng. Disse shamanistiske praksisser blev kaldt blóts, og de blev afholdt på bestemte dage i løbet af året. En af de største af disse blóts er jólablót, som betyder juleofre.
Det var årets vigtigste højtid, hvor alle skulle spise og drikke. Hvis du er interesseret i at vide mere om Yule, så vil jeg gerne anbefale min meget dybdegående artikel om Yules oprindelse.
Kilder:
Jesse Byock (2005) Snorri Sturluson, The Prose Edda. 1st. edition. London, England: Penguin Books Ltd. ISBN-13 978-0-140-44755-2
Anthony Faulkes (1995) Snorri Sturluson, Edda. 3rd. edition. London, England: Everyman J. M. Dent. ISBN-13 978-0-4608-7616-2
Lee M. Hollander (1962) The Poetic Edda. 15th. edition. Texas, USA: University Research Institute of the University of Texas. ISBN 978-0-292-76499-6