Odr er en gud (oldnordisk: Óðr), og han er ægtemand til frugtbarhedsgudinden Freja i den nordiske mytologi. Navnet Óðr, som også kan staves Óð, kan oversættes til inspiration, vrede, raseri og rasende.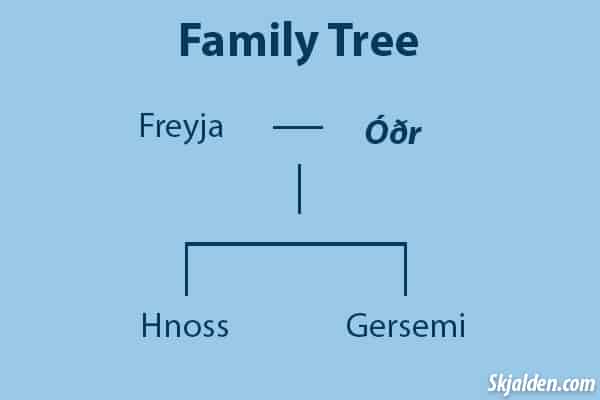 Ifølge Snorri Sturlusons to bøger, Prosa Edda og Heimskringla (kongesagaer) fra det 13. århundrede, er Óðr Frejas mand og far til hendes to døtre Hnoss og Gersemi.
Odr forlader ofte Freya i lange perioder for at tage på rejser for at udforske de ni riger. Dette gør Freya så ked af det, at hun ofte i desperation leder efter ham, mens hun græder tårer af rødt guld.
På grund af de tætte ligheder mellem Óðinn (Odin) og Óðr har nogle forskere hævdet, at de måske er den samme guddom. Afhængigt af hvordan man staver Óðinn, ændrer hans navn betydning, og en af disse betydninger er næsten den samme som Óðr.
Det er også muligt, at vi simpelthen har mistet nogle af historierne om Óðr, for det meste af denne viden blev aldrig skrevet ned, og historierne blev blot fortalt og genfortalt mundtligt.
Gudinden Freya har også mange ligheder med Frigg, hvilket har fået nogle forskere til at spekulere i, om de er den samme guddom. Dvs. at fredag både er blevet omtalt som Frejas og Frigg's dag.
Betydningen af Freja, som næsten er afbildet som Asgårds dronning, især når vi tager hendes ret til at vælge blandt alle hæderlige døde til hendes sal i betragtning, før resten går til Odins sal Valhalla, det får en til at undre sig.
Hvis de var den samme, ville det betyde, at Frigg var en Vanir, da Freyja klart er blevet nævnt som sådan, men det er et åbent spørgsmål, og jeg vil lade det blive ved spekulationer.
Kilder:
Jesse Byock (2005) Snorri Sturluson, The Prose Edda. 1st. edition. London, England: Penguin Books Ltd. ISBN-13 978-0-140-44755-2
Anthony Faulkes (1995) Snorri Sturluson, Edda. 3rd. edition. London, England: Everyman J. M. Dent. ISBN-13 978-0-4608-7616-2
Lee M. Hollander (1962) The Poetic Edda. 15th. edition. Texas, USA: University Research Institute of the University of Texas. ISBN 978-0-292-76499-6