I den nordiske mytologi er Huginn og Muninn Odins to ravne. Huginn er det oldnordiske ord for "tanke", og Muninn er det oldnordiske ord for "hukommelse". Hver morgen ved solopgang sender han dem af sted for at flyve rundt i alle de ni riger for at indsamle oplysninger om, hvad der sker. Om aftenen vender de tilbage til Odin i Asgård og fortæller ham alt det, de har set og hørt.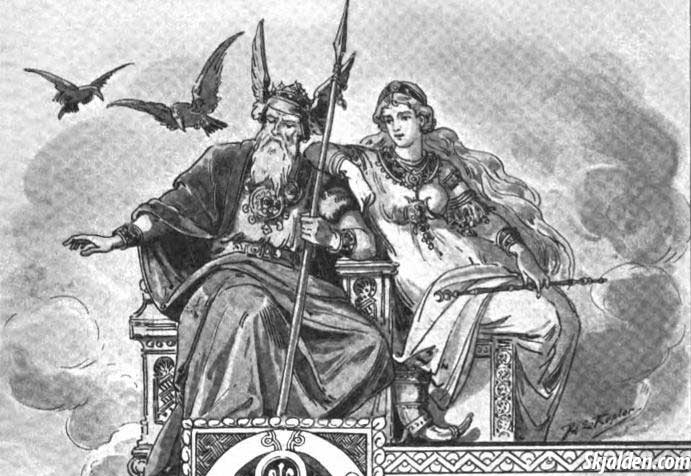 Huginn og Muninn er meget tæt på Odin, faktisk så tæt, at han ifølge Snorri Sturlusons Prosa Edda omtales som ravneguden (oldnordisk: Hrafnaguð). Hans tætte forhold til ravnerne kunne betyde, at de er en personificering af ham selv.
Odin er kendt for at være meget vidende inden for Seidr (oldnordisk: seiðr), som er en nordisk form for shamanisme. Inden for shamanismen er det ganske almindeligt at tage skikkelse af et dyr, dette kan f.eks. være i form af et ritual, som f.eks. indsamling af viden.
Et andet eksempel på, hvorfor Huginn og Muninn kunne være hans egen personificering, er strofen fra digtet Grímnismál i den Poetiske Edda.
Huginn og Muninn flyver hver dag over den store jord. Jeg frygter for Hugin at han ikke kommer tilbage, men jeg frygter mere for Munin. – Grimnirs læg. 20
Denne del kunne umiddelbart tyde på, at han er bekymret for, om hans ravne vil vende tilbage. Det kan dog også have en dybere betydning, og Odin kan være bekymret for sin egen hukommelse. Han har en enorm mængde viden, og han kan være bange for at glemme noget af den, måske på grund af alder. Denne strofe kunne også fremhæve hans bekymring for de risici, der er forbundet med at gå ind i en shamanistisk trancetilstandsrejse på daglig basis, især når man bliver delt op i to dyr.
Et af de almindelige symboler for Odin er raven, og nogle klaner i Skandinavien havde en så stærk forbindelse til ham, at de brugte raven på deres krigsflag. Dette er kendt som ravnebanneret, og der er blandt andet fundet afbildninger af det på Bayeux-tapetet.
Et andet navn for Odin er "Ravneoffer-gud" (oldnordisk: Hrafnblóts Goði). Dette navn for Odin er en poetisk måde at forklare, at de faldne krigere i et slag ville gå til Valhalla. Det er Odin, der bestemmer, hvem der dør i et slag, men det er Freja, der har førstevalget blandt de dræbte.
Hvis der blev udført et ritual til ære for Odin, enten ved at ofre et menneske eller et dyr. Så troede folk, at hvis de så en ravn umiddelbart efter, så havde han accepteret offeret.
Huginn og Muninn eller Hugin og Munin?
Ifølge den nordiske sprogekspert Jackson Crawford kan ravne staves både som Huginn og Muninn og Hugin og Munin på engelsk.
På oldnordisk afhænger stavemåden af situationen. Hvis vi tager et kig på strofen fra tidligere. Du har måske bemærket, at de i den første linje staves med to N'er til sidst, men længere nede staves de med ét N.
Huginn og Muninn flyver hver dag over den store jord. Jeg frygter for Hugin at han ikke kommer tilbage, men jeg frygter mere for Munin. – Grimnirs læg. 20
I den første linje har de to N'er, fordi ravne er subjekt for verbet "flyve" (oldnordisk: fljúga). Længere nede er de stavet med ét N til sidst, fordi ravnene er genstand for verberne "frygte for" (oldnordisk: óumk of) og "frygte for" (oldnordisk: sjámk um).
Huginn og Muninn flyve hverjan dag jörmungrund yfir. óumz ek af Hugin at hann aptr né komit, þó sjámk meirr um Munin. – Grímnismál. 20
Kilder:
Jesse Byock (2005) Snorri Sturluson, The Prose Edda. 1st. edition. London, England: Penguin Books Ltd. ISBN-13 978-0-140-44755-2
Anthony Faulkes (1995) Snorri Sturluson, Edda. 3rd. edition. London, England: Everyman J. M. Dent. ISBN-13 978-0-4608-7616-2
Lee M. Hollander (1962) The Poetic Edda. 15th. edition. Texas, USA: University Research Institute of the University of Texas. ISBN 978-0-292-76499-6
Jackson Crawford (2019) https://www.youtube.com/watch?v=hsvM-nXQK3s&ab_channel=JacksonCrawford