I den nordiske mytologi er der to grene af guder, Aesir og Vanir. Aserne er den gruppe af guder og gudinder, som vi kender mest til, og de få oplysninger, vi har om Vanerne, er alle nævnt i kilderne i forbindelse med Aserne.
De to grene var tidligere rivaliserende fraktioner, hvilket til sidst resulterede i en krig, kendt som Aesir-Vanir-krigen. Ved krigens afslutning udvekslede de to parter guder, som måtte leve blandt de andre som et tegn på fred.
De to Vanir-guder Freyr og Njord og Vanir-gudinden Freya blev sendt til aserne, mens Honir og Mimir blev sendt til Vanir. Det skal siges, at Mimir blev halshugget under krigen af Vanir, så de var nok glade for at slippe af med ham.
De to grene af guder og gudinder har hver deres eget separate rige, som hænger på verdenstræet Yggdrasil. Aserne bor i Asgård, og vanerne bor i Vanaheim.
Den højeste af guderne og nok også den mest kendte gud hedder Odin, han er hersker over alle aserne, og han er gift med den smukke Frigg, som er Asgårds dronning.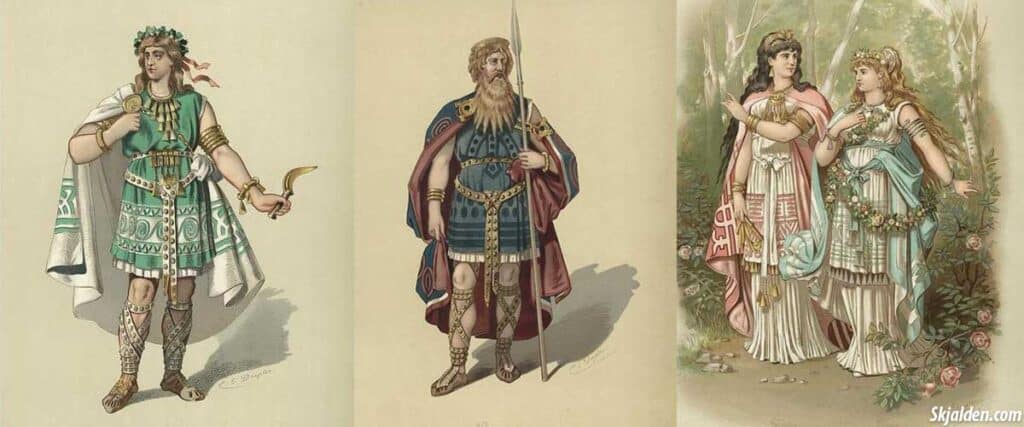 De nordiske guder er meget unikke, fordi hver af guderne har deres egne karaktertræk, f.eks. Thor, der er hidsig, eller Freja, der altid synes at være på udkig efter et nyt smukt smykke. Loke, der synes at elske mere end noget andet at ødelægge dagen for andre, Loke er dog ikke rigtig en ægte gud, i hvert fald ikke fuldblods, men han kunne kaldes en halvgud.
Idunn og hendes ungdomsæbler, der forhindrer guderne og gudinderne i at dø af alderdom, og lad os ikke glemme den smukke Baldur, han er elsket af alle, måske endda af Loke, selv om han fik ham til at dø.
De har også deres egne associationer, og de er gud eller gudinde for visse ting, og dette overlapper ofte hinanden. F.eks. kaldes både Odin og Týr for krigsgud.
Guderne og gudinderne bliver ikke i himlen, som de gør i nogle religioner, de blander sig hele tiden i menneskers anliggender, men også i andre væsener som jötnarne (jætterne) og dværgene.
Vores forfædre i Nordeuropa havde højst sandsynligt deres egen yndlingsgudinde, afhængigt af deres personlighed eller årstiden. Vi ved med sikkerhed, at nogle klaner dyrkede nogle mere end andre. Gårde, byer og visse stednavne afspejler dette gennem Norden, f.eks. er byen Odense opkaldt efter guden Odin. Legenden fortæller, at Freja og Odin engang fløj over Fyn, da Freja kiggede ned og sagde "Odin See" (Odense).
Tilbedelsen af guder og gudinder døde ikke for 1000 år siden, mange mennesker tilslutter sig stadig denne voksende polyteistiske religion. Navnet på religionen synes at variere en smule fra sted til sted, men i Skandinavien kaldes den Ásatrú.
Hvis du vil læse mere om nordisk mytologi, så har jeg lavet en liste over de efter min mening bedste bøger om nordisk mytologi på engelsk.