I den nordiske mytologi er Bifrost den regnbuebro, der forbinder Asgård (gudernes hjem) med Midgård (menneskenes hjem). Bifrost består af tre farver, og den er så stor, at den kan ses i alle de ni riger.
Betydningen af navnet Bifrost er usikker, men ifølge den nordiske sprogekspert Dr. Jackson Crawford kan det oversættes til "den blinkende mil" eller "den blinkende mil". Broen er blevet stavet på to lidt forskellige måder. I den Poetiske Edda staves broen "Bilröst", og i Prosa Edda staves den "Bifröst".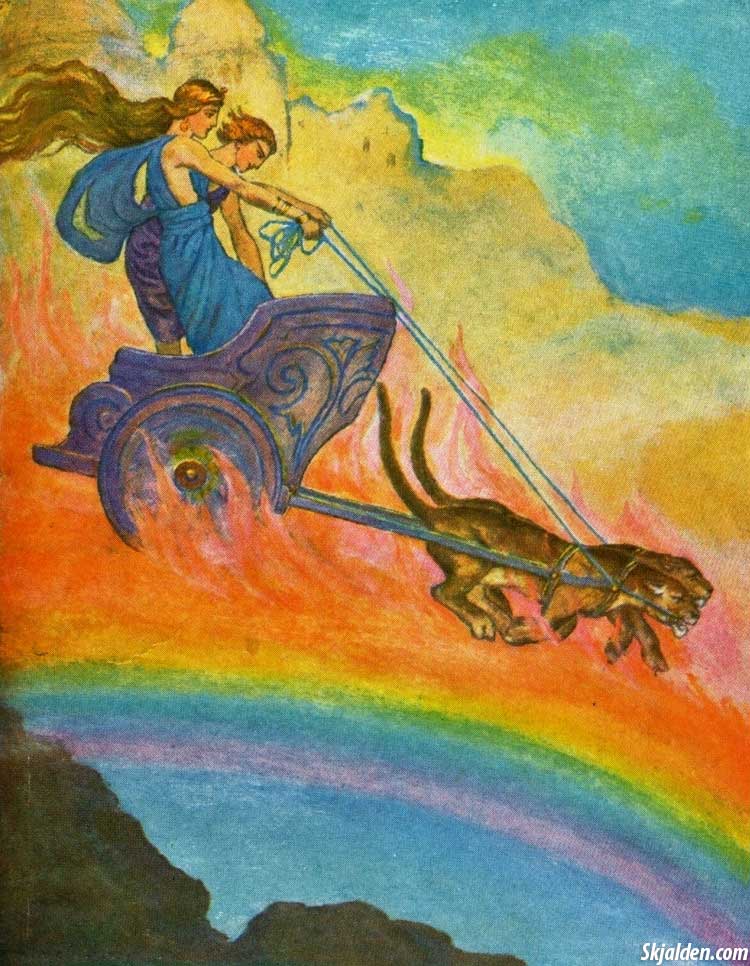 På oldnordisk betyder bifask "skælve", og röst betyder "mil". Det vil sige, at hvis det blev stavet Bifröst, kunne navnet på regnbuebroen oversættes til "den skælvende mil". Hvis det derimod staves "Bilröst", som det er i den Poetiske Edda, kunne det oversættes til "den blinkende mil" eller "den blinkende mil".
Ifølge Dr. Jackson Crawford betyder "bil" på oldnordisk "øjeblik eller fiasko", hvilket er baseret på et af Odins navne "Bileygr", som betyder enten vaklende eller blinkende øjne.
Ud over de to navne Bifröst og Bilröst er broen også blevet kaldt Ásbrú (Aesir-broen) i Snorri Sturlusons Prosa Edda.
Vogteren af Bifrost
Det er guden Heimdall, der er regnbuebroens vogter, og derfor er han et symbol på bevarelsen af kosmos. Han er kommunikationsforbindelsen mellem guderne og gudinderne og menneskene.
Heimdall blev sandsynligvis valgt til at udføre denne vigtige opgave på grund af sin utrolige evne til at se hundredvis af kilometer. Og skulle vejret være overskyet, er det ligegyldigt for Heimdall, for han har også en utrolig hørelse, faktisk kan han endda høre ulden vokse på ryggen af et får.
Heimdall er udstyret med et horn ved navn Gjallarhorn, som betyder "det skrigende horn" eller "det højt klingende horn". Dette horn kan lave en lyd, der er så høj, at den kan høres i alle riger. Ved Ragnarök er det dette horn, der vil advare alle aserne om, at krigen er ved at begynde. Dette vil også være den dag, hvor Bifrost vil blive ødelagt.
Hvis en jætte skulle være dum nok til at forsøge at angribe eller snige sig ind i Asgård, så har Heimdall sit troværdige sværd ved navn Hofund ved sin side. Men det er meget usandsynligt, at en jætte vil nå op ad regnbuebroen. For broen er altid i brand, og den er så varm, at den altid har et rødt skær.
Kilder:
Jesse Byock (2005) Snorri Sturluson, The Prose Edda. 1st. edition. London, England: Penguin Books Ltd. ISBN-13 978-0-140-44755-2
Anthony Faulkes (1995) Snorri Sturluson, Edda. 3rd. edition. London, England: Everyman J. M. Dent. ISBN-13 978-0-4608-7616-2
Lee M. Hollander (1962) The Poetic Edda. 15th. edition. Texas, USA: University Research Institute of the University of Texas. ISBN 978-0-292-76499-6
Jackson Crawford (2018) https://www.youtube.com/watch?v=ILAERgb3V0o&ab_channel=JacksonCrawford