Velkommen til Asgårds rige! Asgård er hjemsted for guderne og gudinderne i den nordiske mytologi og er et sted med magt og mystik. I århundreder har hemmelighederne i dette mytiske rige været indhyllet i myter og legender. I denne artikel vil vi udforske Asgårds hemmeligheder og opdage dets skjulte vidundere. Fra Valhalla til Regnbuebroen – tag med mig på en rejse til Asgårds rige!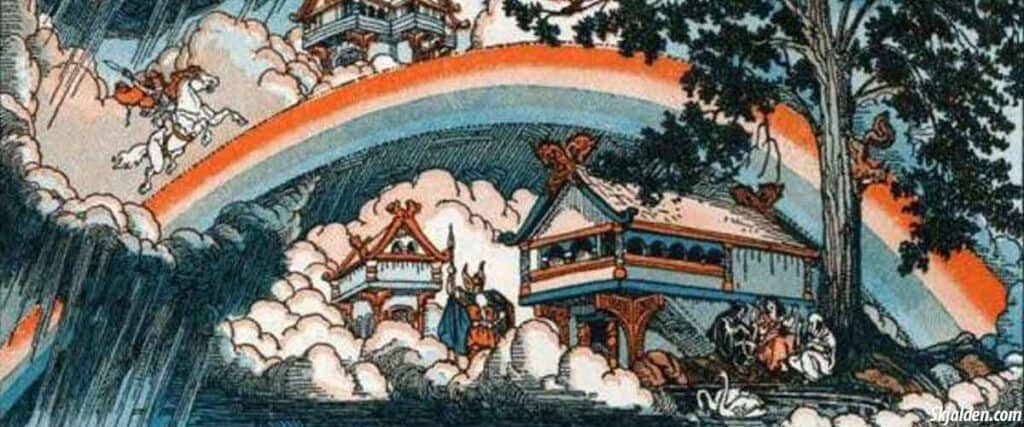 Asgård regeres af Alfaderen Odin. Det siges, at Alfaderen kender mange hemmeligheder og har magt til at opfylde ønsker for de dødelige. Med sin magi kan han kalde ravne ned fra himlen og kan se ind i fremtiden. Odin ledsages også af sine to ravne, Huginn og Muninn, som sidder på hans skuldre og rejser rundt i verden for at bringe ham de seneste nyheder fra de ni riger. Asgård er også hjemsted for mange andre guder og gudinder fra den nordiske mytologi, såsom Thor, Freja og Heimdall. Hver af disse guder og gudinder har deres egne unikke kræfter og evner, hvilket gør dem til stærke allierede for Odin og hans kongerige.
Asgårds rige er fyldt med storslåede gange og kamre. Blandt disse er den store hal Valhalla, som er hjemsted for nogle af de modigste krigere, der er døde i kamp. I denne sal festede krigerne med stegt vildsvin og drak mjød fra gyldne horn. Regnbuebroen er et andet vidunder i Asgård. Denne bro er lavet af regnbuer, der fører til Asgård, og den bevogtes af guden Heimdall. Denne magiske bro er den eneste måde at komme ind eller ud af Asgård på. Hvis en dødelig var i stand til at krydse regnbuebroen, ville de få lov til at blive.
8 fakta om Asgård
Asgård er hjemsted for guderne og gudinderne i den nordiske mytologi.
Asgård blev skabt af Odin og hans to brødre Vili og Vé.
Asgård ligger i himlen, på toppen af et stort træ kaldet Yggdrasil.
De vigtigste bygninger i Asgård er de store haller som tilhøre Odin, Freja og Thor.
Den mest magtfulde af guderne i Asgård er Odin, den Almindelige Fader.
Regnbuebroen Bifrost forbinder Asgård med Midgård (jorden).
Heimdall beskytter Asgård ved at vogte regnbuebroen.
Asgård vil blive ødelagt ved verdens undergang (Ragnarök).
Asgardiske symboler
Valknutten er et symbol på Odins magt og består af ni sammenkædede trekanter. Det bruges ofte til at repræsentere styrke og mod. Mjølner er en magisk hammer, der holdes af tordenguden Thor. Det siges, at dens kraft er så stor, at den kan jævne bjerge med jorden og fremkalde storme. Mjølner er et populært symbol og bruges ofte som et tegn på beskyttelse. Desuden repræsenterer Odins ravne, Huginn og Muninn, også viden og intelligens. De rejser rundt i verden og bringer oplysninger tilbage til Alfaderen. Tilsammen repræsenterer disse symboler de nordiske gudernes magt og deres indflydelse på Asgård-riget.